third post of the day, I can't help it, I haven't blogged for 2 weeks, I've been itching away.

So here's a blog entry and blast into the past for Kristine's blog.

My favourite age is 3, as I quote from Taylor swift's lyrics, it's the age of princesses. and in my world dressing up. =) It's the age when you learn, as a girl, to dress up, to try to look beautiful and pretty. Your first step into the world of beauty. The age of 3 is full of innocence and dresses. I adore all my dresses from the past, and as i gave them away, I was so so sad. =( Here's photos from a blast in the past.

The age of Dress up!



Also the age of Too-big Dresses



Playing House, in pretty a scottish skirt



A princess needs a horse, mummy!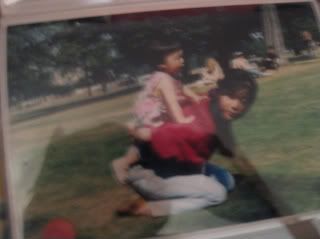 Hey< I'm the Princess of Glam Rock: Elton John




Photos credit to my mother. [It's great living in the room where they keep all the photo albums]