Yes, the person who bought Yasumi's delicate earrings was meee.
Yasumi included a beauty diaries mask too. Those things are GOLD in the blogosphere. =D I bought some apple polyphenol ones in Hong Kong, but they didn't go well with my skin, it stungg. Luckily, I got to try Yasumi's one: the sakura one. And it smelt so good and was so delicate on my skin. I will be purchasing more sakura ones in the near future.

Anyhoo, the goods. Aren't the earrings just adorable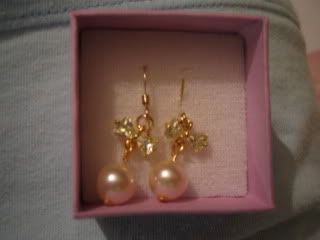 Just to show my love, Im wearing them out for my night out on town tonight.

Here's my outfit and fotd for the night. It's pretty simple and delicate to match the earrings. I used the maquillage eyes creator PK 366 and it's adorable, it's actually more smokey IRL. the brown don't show up on my phone camera. =/. The dress is from a boutique in HK called bingo in shatin. It's perfectt. although, I think it's too delicate for a club night, BUT I LOVE IT SO MUCH, so screw club night, I'll go delicate. =) Sprry about the picture. I'm still getting to grips with my new phone controls.