I've noticed that this year in Hong Kong, I've bought so much more palettes this year. Maybe I'm easily sucked in by the ALL IN ONE thing? I recently bought a dvd set with 3 films inside for £10 recently too. However, I was considering Jill stuart but the only place i saw it in HK when i visited was Seibu and also Harbour terminal, and we walked STRAIGHT past it because we had other shopping to do and we didn't go back. siiigh. I wish i bought it now.



The List
MUJI highlight contour palette [purple based]
MUJI eye colour palette in yellow browns.



KATE diamond cut eyes GN-1
KATE diamond cut eyes BK-1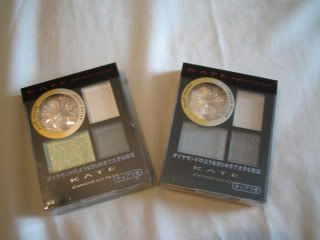 SHISEIDO maquilage eye creator PK366


SHISEIDO maquillage face creator



Since i've been back, I'm obsessed with the face creator palette. It's so versatilee. =), Im just a sucker for a 5 in 1 palette, it's just that little bit more fun than my coralista [the one in which i was a sucker for the packaging]. I can't wait until autumn though, I can totally see the PK 366 Palette being my HG for those winter days. =)

The Muji things are just bargains, the yellow brown palette is also very good, my only main concerns are that it does come across as too shimmery sometimes, or maybe its just very pigmented.... Anyhoo, it suits my aunt more so than me, so im giving that one away. =)

I still need to try the KATE eye palettes and also the muji highlight/purple base. But this post is only here because i noticed that i have ALOT of palettes in my haul...

ANYHOO. more HK stuff, in the form of clothing.
It's a long tee/dress with buttons printed on. it's too cute! and comfy tooo. =)
I bought it uniqlo for 150HKD, which is around £12.