This post is so so soo overdue. Im so sorry. I've been ill AGAIN and busy with university stuff, its been so hectic. I'm actually on meds this week, antibiotics because my cough had turned serious, and was nearly at the chest infection phase. NOT FUN. =/

Anyhoo, onto today's agenda, I was contacted a while back from Janet Lai, a revlon rep who asked me to review some lash samples. I happily accepted. This fotd post is only one of the many lashes she sent. This one happens to be the 'defining' one out of the fantasy lengths series. It's also self adhesive, so you will NOT get lash glue with it. I've tried the ones in superdrug before, but because it was self adhesive, i tangled it up before i got it on my eye. haha. fail. So this is the second attempt and needless to say, I was pretty apprehensive. I expected to cut the lashes too, but to my happy surprise. LASHES THAT FIT WITHOUT CUTTING. saving my the hassle. 1 point to revlon. Furthermore, alot of people did mention they needed extra glue, and i guess it looks more clean, but it seemed to fit my eye perfectly. 2 points to revlon. Was it moveable, yes. 3 points to revlon. However i did find that the lash bone if pushed too much hurts the delicate eye area so i would refrain from doing so.

But overall, for the defining lashes of the revlon fantasy lengths series, it's a pretty good product, and i would consider to buy again. =D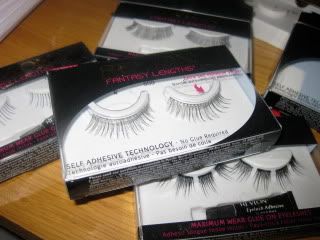 FOTD:
Muji brown/yellow eye palette
SKINFOOD aloe BB cream
Muji brightening powder
Benefit coralista blush
Vaseline
REVLON fantasy lengths in defining.