my god, thats an awfully long blog title. =) It's nice to see the blogging world, after what...one day? hahaha. I really hope you're not sick of my posts yet, as i've mentioned MANY times, my posts were all backtracked because of having no camera, and then i realise that half this post on the broadway nails review didn't need my camera. Thus i was under the pretense of no camera= no confidence. [I still feel that way- need to find a replacement battery still] =(

anyhoo, another review on drugstore goodies- this time nails. [My last post was on lashes]. I've used broadway real life nails for a WHOLE year now and i keep buying them over and over again, and that really does warrant a review. =)

The nails themselves are UBER short and come in alot of choices- from short-to real short to petite. Since my hands are unnatural 7-year old hands, i had to pick petite. The box comes with nails and all its spares [to last you the 7 day period] a file, gel glue and a cuticle stick. Pretty standard.
The nails are also dubbed real life nails which indicate that it is designed for everyday practicality- score 1 for broadway nails.



http://static-resources.goodguide.com/images/entities/all/208640.jpg

[will update with photos later on- displaying contents and length of nails IRL]

I'll be honest, I'm a AWFUL AWFUL nail biter. my real nails are a disgrace , stopping is easier said and done and the only way to stop me biting is fake nails. After buffing my awful nails, I picked out the nails that matched each finger. apply glue on nail and the fake nail and press. The beauty with broadway nails is that the gel nail glue is PINK GEL which looks really discreet and natural under the nails. =). score 2. Furthermore, they come with TABS which makes them so easy to apply. score 3- just snap them off once the nail is glued on.

what it looks like- fully done-



These nails aren't the sturdiest nails, not in comparison to actual salon done acrylic nails but for everyday practicality, it does the job, granted opening cans [which i do at work] can be pretty painful with long fake nails because it applies more pressure on your nails but it pretty much works for everyday. =) score 4

the contents of the box also provide spares, score 5 because its given that stick on nails will drop off at any point, if you keep them in good condition, they should last 3-4 days. i usually buy 2 boxes just in case. if you don't have mathcing nails by the end of it, the file can be used to file down bigger nails [1/2 sizes bigger] to fit it ontop. Just leave a gap when painting over to create a fake cuticle so it looks more real. =)

The box also states that nails should not be worn over 7 days, it does feel a bit uncomfortable after a while because stick on nails do exert pressure on your nail, or so i feel. It's uber easy to take off too- soak them in warm water and then wipe off with nail polish remover.

The currently retail in all major drugstores at £7.49, nails just as amazing as a salon done job, thats a damn good price.

I rate this product 4.5/5 stars. TOP MARKSS <3

Here's some NOTD's from the past few weeks. =) i did paint over them- didn't do anything bad to the nails, i wasnt too keen on the seethrough look at the tips.

NEXT claret colour- loved the colour. formula was epic fail- uneven.



NAIL POLISH RAVE>>MISS SPORTY silver/purple sheen colour- LOVE LOVE LOVE. so easy to apply. first coat was already so opaque. however not chip resistant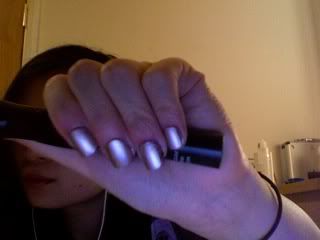 NAIL POLISH RAVE>> MAYBELLINE +iron. formula is chip resistant. doesn't chip in like FOREVER
[need to update with picture]

Thats all for now. Will upload the next post on westfield and london bloggers meet tomorrow. until then- tataa. x