Christmas is near, I hope you've all been watching love actually religiously like i do. haha Thats MY christmas tradition, its always on replay. =)

As many of you may know, this polish is the chanel jade green dupe. and at the moment the most sought after barryM product on the blogosphere. I finally picked it up [i was doing the christmas present rounds] and I'm not that impressed with it [SHOCK HORROR!]

Here's what i got from google [My camera is dead- wont get to use SLR til next week], the actual product itself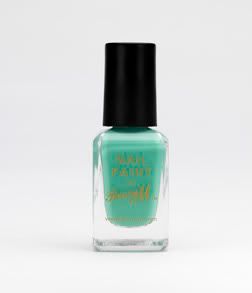 I'll start with the positives; I love love love the colour so much, it's so pretty and it's also ONLY £2.49, which is a tenth of the price of the chanel jade green polish and it's a pretty big bottle. The coverage is pretty decent too but,

and here come the negatives: The formula sucks. period. It's really watery but also very gloopy at the same time...even after i shook it, plus it's not a quick dry formula, so for you busy girls of the world out there, this polish is not for you. Not only does it take ages to dry, it smudges really easily. the only way one would actually get it looking perfect is if you don't do anything for about 2 hours afterwards.

NOTM. the lighting is crap, im sorry.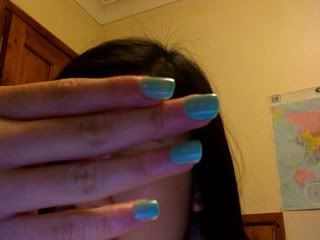 I know its a dupe, but i don't have the high end chanel version to compare with and i don't think i ever will, I could never shell out that much money for JUST nail polish, even if it is LE.

My rating: 3/5
I wouldn't purchase again. I prefer metallic shades better.

also

WHAT IS A GOOD NUDE SHADE FOR POLISH? PLEASE LET ME KNOW BY COMMENTING <3

Keep warm over the winter season girls!