before i start. I WON LIPGLOSSIPINGS AUSSIE CONTEST. WOOPWOOP. LOL i totally had to shove that in.

Now go follow Charlotte at www.lipglossiping.com because her blog is amazing=). go, right after you read this post!

I went out the other day with my new f21 top from Christine and it was such a beautiful top, it totally inspired me to do a dakr blue EOTD.

Pretty simple: Gel liner and a smudging of blue eyeshadow on the bottom lash line

crappy mac camera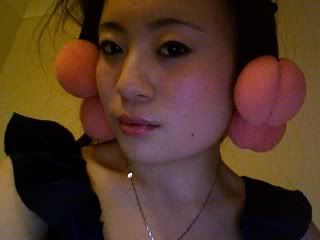 in flash with a proper camera




FOTD Products
Laura Mercier primer sample
Shiseido Dual balancing foundation
Kevin Beautymaker magic eye concealer
NYX blush in peach
benefit boiing

EOTD
Kate gel liner in black
Majolica Majorca Gorgeous lash wing
Meilina Pencil kohl in black
Beauty-uk palette [my housemate's] in the darker shade of blue [these shadows are REALLY PIGMENTED, must ask to borrow her palette to review!]

tools
ELF foundation brush
ELF complexion brush
ELF smudge brush
KATE liner brush

LOL. action shot!