So I'm sitting with a nice warm cup of dark cherry mocha [without cream- so it's not the happiest starbucks i have had =(] and i totally remembered- I NEED TO WRITE THIS POST. [or really, i need to plan an essay, but i'll procrastinate, blogpost, plan halfway, eat, get ready to go out, come back wasted and another day is gone but we'll forget that i ever said that ;P]

Last thursday, I headed up to Westfield shopping centre [shepherds bush] for the first time, for the mini london blogger meet, i'll say mini because it was only the 4 of us. As in Jamilla, Eve and Kelly.[ no blog YET- she should though. =)] Eve, was the STAR of the night because she totally rocked up in a pink coat which we all loved. =)

WESTFIELD IS MAHOOOSIVE. I walked in through the village [bad idea, that part of the centre was filled with gucci, prada and louis vuitton, all of which i can not afford at my current stage of life =(] I was seriously impressed. one day, i will be rich enough!

Mini haul damage in boots, super drug and house of fraser. and a few rounds of free pretzel and snog samples. but it's okay. everything was 10% off. =)

actually some of damage is for christmas presents. =)

What i bought:
Christian dior serum di rouge in 640 [current hg- as Mona once said, its like pokemon, gotta catch 'em all]
Benefit Creaseless cream in rsvp
BarryM Nail varnish in 161 vivid purple
BarryM Blue liner



a few samples chucked in from shu uemura =)



and some goodies from the other ladies. <3
Jamilla gave me a harajuku girls fragrance in music. How cute. <3



random goods from kelly- bird nest mask. that's gotta be some good shit. =)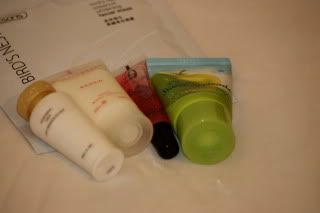 oh yes and some online hauls.
amazing brush roll holder from Yumeko
how cute is THAT. Yumeko's handiwork is AMAZING.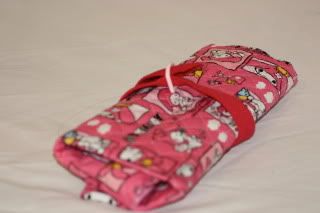 Also,put in an order for dsk, I call it my guardian angel necklace, sterling silver, with golden shadow pegasus and moonlight heart. very classic haha, and angels are so christmassy.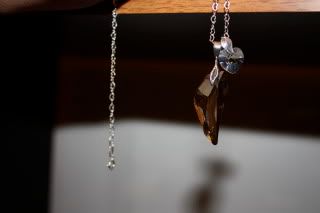 but yes, ladies, it is nearly christmas and its's bloody freezing in england, but as much as i complain, I really do love the winter, I LOVE LOVE LOVE layers and scarves. We;ve put up our artificial xmas tree in our uni house already. Looks like santa vomitted over it, but all in the spirit of christmas, it wouldn't be christmas without a xmas tree that looks like a glittery abomination. At home, my mother buys the real fir trees, and i can't wait to smell the gorgeous tree scent. =) But i'll stop rambling about trees now.

Much love x