I know this is late, but i did pick up the sleek limited edition graphite palette a few weeks ago. =) Here are the swatches, been using it for all my smokey eye looks. =)

the palette


Look how pretty the colours are,



the first swatch is the top row. i do find that the shades aren't as pigmented as the original palette [which is like butter!]



Bottom row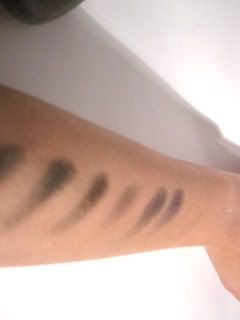 OOh,santa came early this year. Christine (www.closetrebelc.blogspot.com). I did a swap with her earlier this season. Check her blog, shes awesome. anyhoo, this girl KNOWS me so well. She got me a BOATLOAD of f21 stuff, we can't get f21 in the UK [we get hollister and abercrombie but thats it. haha] ANNNND she got me macs lip erase, i mentioned i was looking for it WAAAAYY back, and she remembered. [even i forgot lol]

anyhoo, have a look!



I won't be blogging as much this week, have an assignment and also i got sidetracked by the wonderful glamourous hong kong drama- beyond the realm of conscience! I will hopefully have my 100 follower giveaway soon [5 MORE PLEASE!] up by next friday too.

until i next blog, stay healthy, eat fruit and never let your indian friend loose with pink shadow and glitter- EVER. =D (yes I'm talking about you Jaz!)