Mini Giveaway Ended
(I will contact you, if you have won!)

EEK, its the ends of January ALREADY? Time goes pretty damn quick. Soon, my penultimate year at University will end, and dissertations start. I don't want to grow up!
I've been on a makeup fast for a few weeks, 3 weeks already! But I gave in the other day and bought a lipstik, but it was a drugstore buy at only £3.99. I want to save money this year so I\m not spending so much on high end because i have so much makeup still to use. =)
Small print; this product was bought from my own earnings. and I give a completely honest review on all my products.

anyhoo, the lowdown on this lipstick/gloss.

Sleek's wonderlast claims to:
provide lips with a medium coverage of colour and shine, The top coat is used to seal the colour and make it last longer and lock moisture into lips.
Taken from the website.
The colour is: Crimson Fire 614.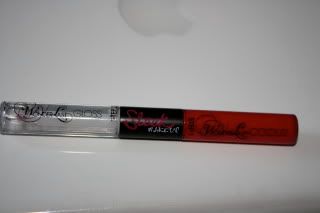 Pros: It comes with a fluffy angled wand which is quite easy for application on lips. the directions are to put the colour on, wait 45 seconds until dry, and then lock the moisture/colour but putting gloss on over. The consistency of the colour is quite thick and goes on pretty well, and i would say it's actually quite heavy coverage.But that doesn't surprise me because sleek always give high quality very pigmented colours! It does what it says on the tin and it does last wonderfully for hours on end. I had this on for 6 hours and it was still on, albeit not as vibrant as when i first put it on.
My only concern is that, its an absolute bitch to remove. i had to resort to my expensive shiseido eye/lip remover to get it off.
Colour & Lip swatches. [I changed cameras halfway, my brother digi canon has poorer quality in comparison to the DSLR. =)]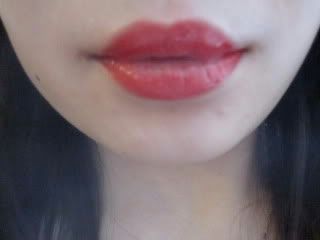 ignore my fat chins please hahahaha. the pictures of my lip doesn't do the colour justice. it looks amazing in RL.
My verdict; +10 for Sleek for another great product.
On another note: My mother is SUCH a style icon for me, she has an eye [not for the queer guy, but amazing fashion bargains!]
So i dedicate todays OOTD to her.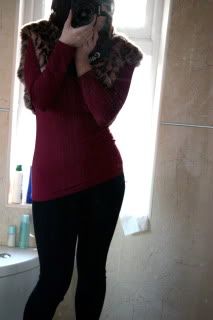 Faux fur shrug: Necessary objects @TkMaxx
Burgandy Heattech sccop top: uniqlo
Leggings: Chinese boutique.