Before i start, I'd like to begin my little rant about Debenhams online service. ITS ABSOLUTELY AWFUL I ordered the limited edition UD alice palette over a week ago and It still hasn't arrived. Everyone else has got theirs, even those who ordered LATER than me. What is UP with that. I will never order from them again. I want my alice palette now. *stomps*

S0 bad news aside...

I adore my blogger meetups, I actually met up with some on Saturday, I met the lovely Sheila for lunch. Hailing from Vancouver. =) We decided to go eat a Korean lunch and wander around the kooky streets of Laaandon. =)

headed to selfridges and covent garden, selfridges to specifically try some pierre Herme Macarons. £2 per macaron, the size of a small ping pong ball. I have expensive taste, I know. The box design is lovely and i WILL use it to store my things, maybe with some trinklets that lie around on my makeup drawer...hmm. The Macarons were devoured in a matter of minutes for our desserts at Eve's house



After a wander round the cosmetic counters in selfridges, [where we picked up some amazing strivectin facial samples! and some illamasqua!] It was already time for the main blogger event, Hot pot at Eve's wonderful home ^^. I got to see the famous Liz/jamilla who brought over her ABSOLUTELY DELICIOUS malteser cake. =) and i also met the lovely Jennifer. (All Names are linked to their blogs, please look at their wonderful wonderful blogs. Shame we missed Kelly this time round, I miss her. =) It was so great seeing old faces and new faces. =)

So a meat filled, tofu filled meal later, Eve had organised time for desserts and a makeup swap.

here's the swap loot i got, Thanks to the girls for being so generous and thanks to Eve and her fiance for hosting it in their home =) (I hope you guys have a great time on holiday!)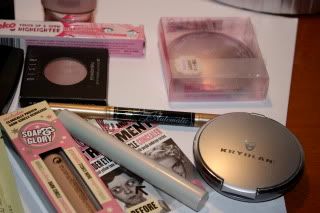 Eyeko Touch and go highlighter
Elisha coy BB cream
Hanskin Glossy Bb cream
Masks
Soap and Glory Concealer
Kryolan compact powder
Kiss compact powder
Nixie eyeshadow
Majorca majolica Automatic eyeliner
Lancome mini palette

I wore this on Saturday, It's a pharoh print dress from Topshop. It's so cute paired up with a blazar. I'm sorry for my extra long post!



x