I've been dropping hints about this post for the last few days, if you've been reading my past posts. The reason being, I was cleaning my brother's room and i found some old childhood books lodged behind the bookshelf and it completely took me back to being a kid. (I'm in a childish mood recently, been watching loads of old school disney and reading children's books

Anyways, When i was a little girl, i was enchanted with the notion of fairies. So much so, my mother bought be this beautiful book which has a collection of wonderful flower fairy pictures each with its own poem.

Today, is based on The sloe fairy, I've also included the poem that comes along with it.

The song of the Sloe Fairy
When Blackthorn blossoms leap to sight,
They deck the hedge with starry light,
In the early spring
When rough winds blow,
Each Promising
A purple sloe.
And now is Autumn here, and lo,
The Blackthorn bears the purple sloe
But ah, how much
Too sharp these plums,
Until the touch
Of Winter comes!
Annnd, here's the EOTD: (sorry about my awful skin, it was the day the paul and joe moisturiser broke me out. =/ and the awful eyebrows-I'm just very very lazy!)

The colours i used, Shu uemura palette & UD Alice palette
Lilac colour in Shu uemura
Absolem (UD) Green
Curioser (UD) light Purple
Underland (UD) Deep Purple
Silver liner in Shu uemura (did nothing, was not creamy enough)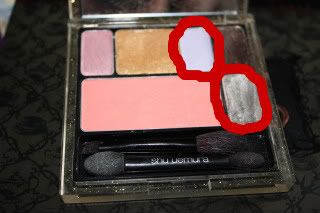 Alice in Wonderland Movie!
I just saw this today (in 2d- 3d not available) and i absolutely loved it. Depp and Bonham Carter were fabulous as usual, as was alan rickman as the caterpillar. I Think the red queen is such a delightful character 'MY JABB-BABY-WOCKEYY' 'fat boys' I love her SO much. I know she's evil, but hey. =) I'm not going to give you any spoilers but lets just say, tim burton has not disappointed me. The scenery was gorgeous, the costumes, the imagination was all wonderful.
I definately recommend it!