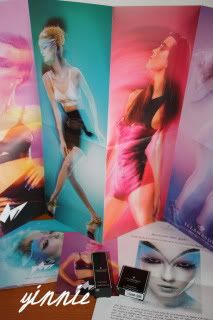 FTC: The products swatched in this post were sent by Illamasqua brand
It's no secret that I've fallen in love with Illamasqua products ever since the cream blush 'seduced' me.
Of course, naturally, I followed them on twitter and there was a lot of coverage on their Twitter about their upcoming body electrics, which I was then invited to. But rail strikes took hold and it was sadly cancelled.
The slogan for this collection is to 'reveal your inner spark!' which sounds very promising. Illamasqua describes the collection as being
inspired by the power of Kinetic energy, the art of movement, the fluidity of the body in motion. The collection is an anthology of cream, powders and dry body oils infused with light, shimmer and shine designed to highlight and contour your whole body.
(Why does this remind me of the 80s? =D)
Containing hyper-pigmented light reflecting particles that ignite the skin with intense colours and finishes, each product in the range has been created to accentuate the body's every twist and turn to exquisite perfection, ensuring you exude the confidence that's more than skin deep
.
I applaud the marketing team for this description. It's fancy, for sure.
Despite it being cancelled , The kind people at Illamasqua (www.illamasqua.com / www.illamasqua.blogspot.com) still surprised me with some of their products from the body electrics line.
I'm so liking how this brand is using the blogger medium!
Here's the product swatches
(and yes, I did get a little snapper happy!)
Anyhoo, it was a BIIGG purple box (Like Barney! the dinosaur) see, how it matches the master roshi doll. =D
...Okay, so maybe the old man doll is a little unnecessary.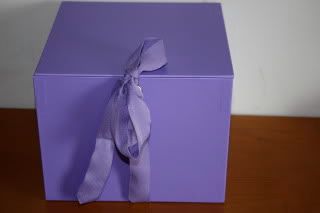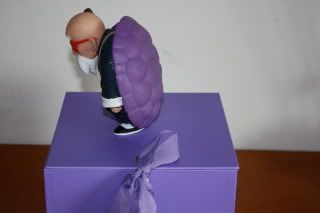 The contents of the box was so pretty. It included leaflets and a postcard, and 2 full sized products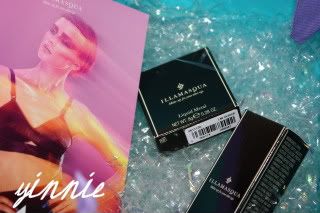 I received Nail Varnish in Force, which is a pretty electric blue colour. Apparently, all the MUAs at Illamasqua have been pairing it up with the Prism varnish as a shimmery opal top coat. It retails for £13.00 for 15ml at all Illamasqua Counters and at their
Online Shop
.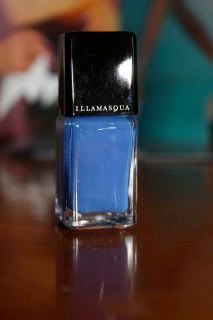 I also received a liquid metal in Surge, described to be a dirty pewter. I'll be honest, when I first saw the swatches, I wasn't too convinced. But it's an amazing colour to colour, it goes with everything, its not quite silver and not quite dirty gold so it works with pairing compatible colours that work with gold AND silver! It retails for £17 for 8g (which is ALOT!) at all Illamasqua Counters and their
Online Shop
.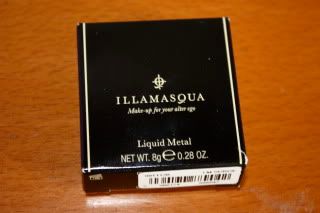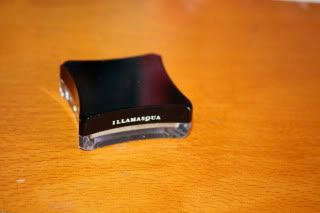 I loved the promo pictures for this collection but I kind of expected it to be a bit more flamboyant. However, I still really want to see what the illumine oils are like. Volt especially, the concept seems a little too, i don't know, Edward Cullen on me. Shimmering in the Sun, Anyone?