I don't think anyone's skin is perfect, it may appear flawless to others, but everyone knows how they feel in their own skin. I suffer from dry patches in the summer and also skin redness from sensitivity, I wouldn't really call it rosacea because it's not as severe but nonetheless, it's a pain to deal with, especially if one's night moisturiser runs out. (With Shiseido jacking up the prices in UK, I'm not going to fork over £45 for my now empty night cream.) Do you use night cream? I love night cream, I love the creamy gel like consistency on it because I find night moisturisers more effective in keeping skin hydrated- but we're going off topic..

So, there I was, tweet searching about night creams because I am frankly, too lazy to browse through makeupalley for reviews, and that place confuses me. I was recommended to try Vitacreme by the lovely Nic Nic (www.bangbangsheshoots.blogspot.com). So off to Ebay I went, and I bagged this baby for around £7 from a seller (My ebay skillz- I only look for well trusted sellers- don't be fooled by the low prices by some sellers, always check their feedback!)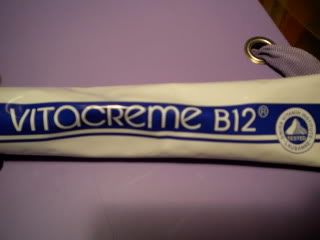 Vitacreme B12 is a cream made in switzerland, for regenerative purposes,



so I researched into a little, i.e: the website and here's the advantages it claims to have
Vitacreme B12 is at forefront of cosmetic technology.
Vitacreme B12 preserves the external signs of youth.

Vitacreme B12 is a true assualt cream against wrinkles as it helps regenerate the superficial cutaneous layers and the cells damaged by age, the sun and enviromental pollution. Vitacreme B12 reinforces the protective cutaneous film and increases the skin's natural resistance by intensively moisturising the superficial skin layers.

Vitacreme B12 prevents and repairs the effects of time through a progressive diffusion meeting the needs of each skin and through better penetration for optimal efficiency
Vitacreme B12 penetrates up to the dermo-epidermal junction thanks to its liposomic agents where it reactivates the growth of germinal cells (deep layer of the epidermis) and promotes the formation of elastin and collagen fibres.
Vitacreme B12 allows to reprogram the hydration process in dry skins.

Vitacreme B12 is efficient in the treatment of breaks, cement disease and helps bedridden patients suffering from bedsores.
Vitacreme B12 allows to protect skins exposed to external aggressions (air too sharp, too cold or exposure to the sun).
Vitacreme B12 is ideal to withstand ageing as it helps regenerate, nourish and moisturise.
Vitacreme B12 is a Swiss high-quality product.
Well, alot of text and mostly repetition, I was especially interested in allowing the reprogramming of the hydration process, my skin is in shambles recently, dry patches EVERYWHERE. So, it claims big, especially the second to last point talking about external aggressions, like the sun, it has no spf so how does it protect? Hmmmm...In addition, the fact that the website claims it helps skin lesions remind me heavily of BB creams, skin lesion balm perhaps, but untinted. BB cream works so it does sound incredibly promising.
What also caught my eye was: On the individuals presenting light burns and dry skin, after several days of application of VITACREME B12: rapid normalization, skin becoming supple, desquamation stopped. feeling of burning rapidly eased, suntan improvement, eperdimal moisture level re-established.
So Does it work?

(Pros)I've heard so many great stories from beauty bloggers, mainly raves and for me, I do like the product, it's really nice to use because it's got no irritating fragrance and it sinks in like a dream, but I don't think it did much for me, yes, it made my skin plumper but my epic-ly dry cheeks were still dry and unsmooth, but in combination with another moisturiser, like Olay face and neck non greasy beauty fluid, it works amazingly well. But on it's own, it has no WOW factor. I've been applying this every day and using it as a pre moisturiser before makeup and it's really handy, plus it's really light so it's wonderful for summer.

(Cons)But again, despite the praises it gets, I don't think the team at vitacreme b12 should claim so much, furthermore, unlike other brands in the retail market, it does nor provide statistics as to how many percent of any individuals reacted well to it, it's just a whole lotta testimonials on the site. For example, they say they tested this against sunburns on Mont-blanc, but it gives no percentage as to how many people participated, whether male/female participants reacted differently, how long did it take for the cream to work? etc. I love the cream but perhaps the advertisement and clinical studies should be more clear and detailed with more information on its page.

Extra Musings

Maybe I'm just picky about credentials and I should just let the cream speak for itself.
Ingredients:0.010% Vitamin B12, Water (Aqua), Corn (Zea Mays) Germ Oil,
Glyceryl Stearate Octyldodecanol, Caprylic/Capric Triglyceride, Cetearyl
Alcohol, Steareth - 2, Steareth - 20, Glycerin, Fragrance (Parfum),
Triethanolamine, Cetyl Phasphate, Tocopherol, Carbomer, BHA, Sorbic Acid,
Dehydroacetic Acid, Phenoxyethanol, Methylparaben, Propylparaben, Disodium
EDTA, Salycilic Acid
Have you used Vitacreme B12? What did you think?
Disclaimer: I bought this product with my own moolah. All opinions are honest and slightly picky. Sorry about that.