Edit: actually wrote this post two weeks ago, but have been super busy with working and moving into new house, finally had time to finish it! Sorry!

As I'm writing this review, a part of me is hanging her head in shame because this was an impulse buy. The Budget student will be regretting this purchase in a few months when I don't have the money for food to eat. But let's get past that and actually review it!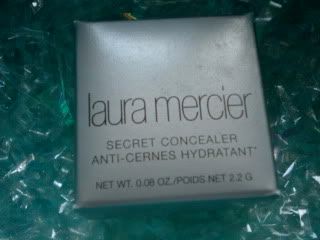 Yes, and this is the pretentious photo-taking that took me around an hour to organise. I hope you like it. (I used the packaging that i did not throw away from my illamasqua gift!)



What it claims/tips (taken from Space.nk. website & laura Mercier site)

Provides more "slip" and glides on skin to cover any dark areas
Brings a youthful, brighter look to entire face
Always apply after foundation
Moisture rich

So does it work?
I actually got matched in store by the lovely store assistants, who were very helpful and not pushy at all. which is bad for my pocket, clearly. The concealer actually retails for around £18, and i was actually shown this one and the By Terry concealer pen. The consistency of this concealer is especially creamy and it really does make a difference, although I do find that without setting with powder, it won't have as much staying power, in fact by the end of the day, it was all gone. In comparison to my now finished Benefit Boi-ing, I do find that it's more liquid, hence better coverage but I find the Benefit much easier to use, especially with the ring finger, I find that using the ring finger here, makes it a little cakey, hence enter my concealer brush.
The shade I was matched with is number 1, a pinky salmon colour and the lightest of the range, there are 6 available shades with varying light/dark.
so here's my breakdown
Pros:
-It's got good coverage
-It's a liquid concealer, which is easy to manipulate. (follows it's claims, so it's pretty damn truthful)
-It covers dark circles, very well
-Nice packaging.
-brightens up eyes in an instant.
Cons
-It's on the high end of the budget, a hefty £18 (USD$30?)
-It needs powder to set
-Unhygienic as its in a pot
-Needs concealer brush
-Can settle into fine lines, if you do have them.
-Limited shades
Extra Musings:
less pros than cons,but yet, it's definately in my eyes, a marmite(vegemite?) product, you either love it or hate it and I love it. It brightens up my eyes so well. Despite what it says about applying after foundation, because it's summer I haven't been wearing foundation at all, just a touch of sunscreen, highlight on bridge and eyebrows, the said concealer and then just a dusting of powder on top of that. It still works brilliantly. Perhaps if I had some HD powder, like MAC prep+prime or e.l.f HD powder, there would be even more stunning results.
A word of warning: It does say that it's a moisture rich concealer on the Laura Mercier site, so I'd probably give it a miss if your skin is on the oily side, it would be sacrilege to invest in a product that would be dribbling down one's face. Benefit Boi-ing would be a much better investment for oilier skintypes.
Ingredients:
Shades 1-3: (#1-3): Petrolatum, Lanolin, Isopropyl Palmitate, Tocopherol, Retinyl Palmitate, Euphorbia Cerifera (Candelilla) Wax, Paraffin, Propylparaben. +/- [May contain]: Titanium Dioxide (Cl 77891), Iron Oxides (Cl 77491, Cl 77492, Cl 77499), Ultramarines (Cl 77007).
Shades 4-5:(#4-6): Petrolatum, Lanolin, Isopropy Palmitate, Paraffin, Propylparaben, Candelilla Cera (Euphorbia Cerifera Wax), Retinyl Palmitate, Glycine Soja (Soybean) Oil, Tocopherol. (+/-): CI 77891 (Titanium Dioxide), CI 77491 (Iron Oxides), CI 77492 (Iron Oxides), CI 77499 (Iron Oxides), CI 77007 (Ultramarines).
Oooh the Darker shades have soya bean in them, how interesting!
Have you tried Laura Mercier secret concealer, What are your thoughts? Any good concealers you've come across? Perhaps a drugstore alternative? Let me know in the comments!