It's been approximately one month since I've blogged about beauty products. I don't think my blog lives up to the name of Makeup and Skincare Junkie. Yeah, Major Fail. So here I am trying to get back into it. To be honest, I haven't exactly been motivated to write about beauty products, the past month has been super hectic for me and also super new.

So, What did I get up to?

If you've been following my tweets, I've been on trains ALOT. (also you might have read it in my last blogpost) Basically, I got offered a work experience/intern placement for one month at the BBC, for BBC factual (making documentary type programmes!) Most of the time, I'm pretty tired. I get up at 7/half 7, out the door by 8, 1 train 2 tubes get to work, until 6pm and 2 tubes and train home. I'm home at 8pm most days. Some days (Okay 2 days out of 20 days) I even had to wake up at 5am for shoots in London! It was so exciting to actually get up for work that was cool! Thus having no energy to blog. I really loved the job though, I got to meet so many cool people and I am REALLY sad it ended, which is why I haven't used this weekend to blog. (LOL you must be thinking that I must have been this awestruck woman walking around the BBC, and sadly, I'd like to report, it's completely true.)

Apart from the trains and the work, another reason I love work is beauty related, waking up early and getting enough beauty sleep TOTALLY pays off. Is it sad I love work for that reason. Okay, I may have not much of social life outside work and my weekends may be spent sleeping and relaxing in the bath, But my skin looks radiant. I have less spots than ever and super hydrated skin (it's not dry anymore, it's a miracle!) I think I enjoy the boring life. =)

I only have concealer, mascara and blush on.



I still don't have any motivation to be honest, but I'm thinking, if I keep writing, it'll all flow back into my fingertips. Fingers crossed(although if they were crossed, I wouldn't be typing to efficiently! haha)

Yet, in the midst of my semi hiatus, I did manage 2 mini blogger meets and some a-mighty hauling (which I still blame my workplace for, since it was 2 minutes from Westfield. Yeah, and it wasn't me, my credit card just flew out of my hand,I swear!)

Anyways, I met up with Nic Nic, Liz, and Eve in Mid July and it was super fun! I actually met up with Eve again last week because I ordered custom made cupcakes from her for my last day at work. (if you're in West London, She makes awesome cakes for all sorts of occasions-Her website)

Anyways, Here's some Hauls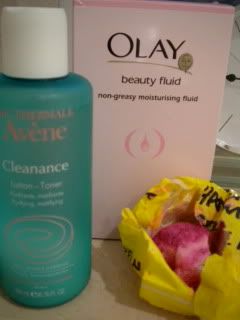 Avene Toner, Lush Bubble Bar, Olay Beauty fluid



Lush Angels on Bare Skin Cleanser, It's a raved product in the blogging world.



RAVE RAVE RAVE!! My NEW HG spot gel: Neutrogena. It WORKS and it's cheap.



Inglot Blotting sheets. £5 for about 100+ sheets. bargain.

Anyways, I'll end it here, I have a few reviews coming up, hauls, and parcels to show off in the next few weeks. So Keep tuned.

x