I haven't blogged in a while, I apologise for that. I've been super busy getting down to work for my final year of Uni. It's all been seminar prep and presentations flying around my head. I'm getting a little bogged down!

Anyways, let's leave all that behind for a few minutes, and head back to summer, because it truly was a productive summer for me. I had an internship for a tv corp, I pretty much worked full time and I was SO burned out. So, I packed my bags and headed for a week of sun and relaxation with my BFF ,to .....the isle of wight! Yeah, not so glamourous, I know. But I think seafood, beach, and relaxing week is a great getaway. Plus I do love the British seaside, especially the week after school starts, it's still summery but it's not full of hectic families, the beaches are always more peaceful! Yes, I also know that it's an old lady summer holiday, but I LOVE IT.

So Bring some sunnies (and wellies, knowing the british weather) and come see snippets of my getaway!

The Beach at Sandown- It was so peaceful. IoW is also a small island so you could walk from one town to another. Sandown is also the home of many dinosaur bones which is now housed in DINOSAUR ISLE. (I cannot tell you how excited I was when I saw the sign for Dinosaur Isle, but I was literally frothing at the mouth) Also Did you know sea air is amazing for your skin, I feel super relaxed and thus slept so much better and earlier during my getaway! I came back all fresh faced and glowing. =)



We had fun at the pier. I do have a thing for children's funfair rides. I think I'm a 5 year old child, at heart (Although not in the MJ Sense....like all high pitched and a little bit geniusly deranged)



Some Geeky pictures that made me laugh out loud.(Really!) I think the names of these beach huts are brilliant. So Clever! It's such a British thing to do too!

Broken Hutted, formerly known as Sweet hut.



Pier Huts of the Caribbean. (This is my FAVOURITE!)



And for all the Potter fans out there, They also named the Gaps in between the Huts.
Diagon Alley.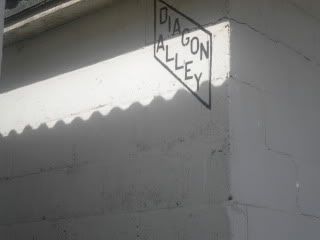 Carrying on the British theme, I definitely went crazy for rock Candy, across the IoW is the rock shop that sells rock candy, honey and jam for tourists. I did alot of damage on candy and Jam. (I am LOVING blackcurrant jam right now!)



You've got to try Jersey cream Ice cream! (Nope, not from Jersey Shore!) It's definitely creamier than most ice creams and absolutely delicious! Here's a photo of me, BEFORE the unattractive part of me trying to eat a MASSIVE scoop of Jersey Ice Cream, whilst it was quickly melting.



Here's the AFTER picture. about 4 minutes after the first one was taken. Yeah, I snarfled that ice cream like a hoover.



If you're a history buff like me, You'd also know that the island is home to Queen Victoria's main private getaway, Osbourne House. I can see why she stayed down her for most of her life after her husband died, it's absolutely stunning. (that little person in the photo is yours truly, See how grand it is!)


Let me know where your favourite getaway is, or even where you would head to for your next getaway? (real/wishful!)
So getting back to reality, which is cold rainy October. My plan is to get back into blogging, although it'll be less regular this academic year, but I do hope to post a autumn related post and a few skincare bits and bobs. =)
I know I hardly ever blog about beauty these days, but the best remedy for skincare and health is to be relaxed and healthy and take time off for yourself. Like the film/book eat prat love says, eat what you want, live the way you want. =)
Is anyone out there still reading my blog, anyways? (I know I'm terrible at keeping up with blogs too!)
x