Quick Post. Working hard on assignments and revision. Will be back VERY shortly.

Let me know if you want the list of products I used.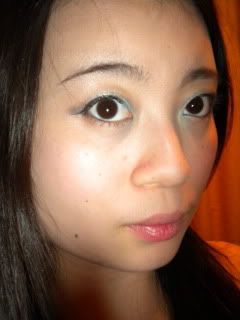 a list of product for you beautiful people!

Face:
Shiseido Dual balancing foundation I20
Hanskin BB cream(shiny for highlight)
Shiseido maquillage blush (forgotten number)
Rimmel pressed powder in translucent to set

Eyes.
Shiseido the makeup earth and sea palette, Dark brown and blue and champagne colour to highlight centre of eyes.
UD alice palette-blue alice shade
Illamasqua precision ink in Abyss
UD zero liner to tightline

Lips
Paul and Joe treatment lipbalm
Bourjois Lipstick in peach.