Denmark, home to pastries, hamlet and my beautiful blogging buddy Line! I've known Line for almost 4 years. we've never met and she was my first blog reader EVER. We bonded over a mutual appreciation for Japanese music, then to Korean music and now we're grown up and glamorous (well Line anyways!) Beauty. Check out her well designed blog www.nancakes.org.

Not only that, She's super generous and we make it a tradition to send each other parcels. =) and Boy, she packed this parcel with SOO many goodies

[Sorry about image quality!]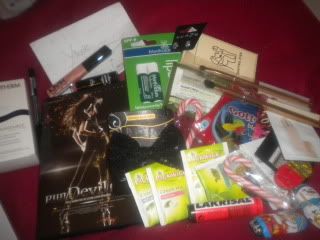 List
Snsd rundevilrun album
Biotherm Moisturiser
Nilens Jord Brushes x2
Nilens Jord palette
NYX lipgloss in sweet heart
NYX round lipstick in indian pink
NYX eyeliner pencil- dareisay more smudgeproof than UD zero. New HG!
earrings
Chapsticks
Chocolate, gummy sweets & liquorice
Bodyshop shampoo samples
Moisturiser samples (Grape flavoured)
Hairband

I'm so overwhelmed Line, THANK YOU SO MUCH!

Damn, I also want a bangin' body. Not fair.


I know it sounds pervy but I love this k-pop group. Yes its generic and bubblegum but they're always styled so well and their songs would do so well on a ddr machine. =D
It's quite deceptive packaging though, I full-on expected this to be a dvd/cd type thing. Alas it is not so. Might be a good thing though, me trying to dance intensively to their dancesteps is not the best picture. Also the Asian music market at grubby moneygrabbers, this is only a repackage album! I guess Integrity is overruled by $$$.

My Precious!


I've never tried Nilens Jord but I've heard of it and I had no idea what to expect. Verdict: I'm TOTALLY blown away by this. It's super pigmented and the colours are GORGEOUS. Although I think they should have had more black E/S...It doesn't have fallout and it's not too sparkly but it works. Another to add to my growing collection of palettes because I am a total sucker for them!

Food with faces. If you didn't know already, my cushions are themed and Line totally hit the nail on the head here. I'm SO grateful, I needed to add to my collection of kooky homeware!




I'm already compiling another parcel for you!!!

Thanks Line!